Kettle & Fire presents a self-paced online training course for healing leaky gut with bone broth.
[This course is highlighted in the webinar: Stop Your Guts From Leaking: 7 Steps to Commitment & Healing.]
Hosted and designed by board-certified holistic nutritionist, Carrie Bonfitto, this detailed course shows you exactly how to implement the healing protocols that she uses to help her clients feel better in just 30 days.
The program begins with a series of videos that walk you through diet changes, booster foods, and supplement options that are essential for healing. After watching them you will understand why these changes are recommended and feel confident about making them.
You'll have full access to the meal plan, recipe book, protocol charts, and instructional cooking videos that Carries gives her clients to support them through this important healing process. And you'll get links and discounts for ordering the right professional grade supplements to speed your symptom relief.
Then when you are ready to start your 30 days of healing, just complete the "I'm Ready" module of the course and you'll be supported through the process with mindset training exercises, email notifications, and tips to keep you on track.
Plus you'll have support from a growing online community of people just like you who have enrolled in the course and are motivated to find health through healing their leaky gut.
And if you ever need extra support, you'll be able to speak directly with Carrie. Just call in during her weekly office hours for a group Q&A session to get all your questions answered in person.

This Course Includes:
Video Training Modules
4 Cooking with Bone Broth Video Tutorials
Leaky Gut Healing Meal Plan
All Food Protocol and Supplement Protocol
Leaky Gut Healing Cookbook
Recorded Question & Answer Calls of the most common questions
Weekly In-Person Access to Carrie During Office Hours
Daily Support via Private Facebook Group
This complete step-by-step protocol is designed it to take you by the hand, relieve your symptoms, and speed your healing process. There are no missing steps - no confusion. It's the quickest and most effective way to get from a place of disease to a place of wellness.

You will get lifetime access to the course materials as well as the private Facebook Group.
If you haven't already, take the time to watch Carrie's informative webinar Stop Your Guts From Leaking: 7 Steps to Commitment & Healing to see if this program is right for you.

Your Instructor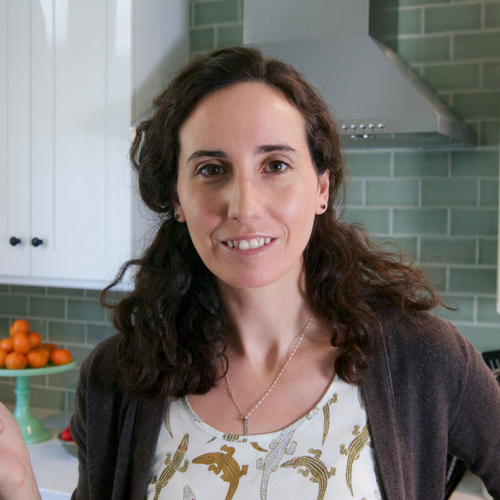 Board Certified Holistic Nutritionist, Carrie Bonfitto, NC., is a wellness educator in the Los Angeles area. Through her private practice, Two Hearts Nutrition, she helps you make the connection between what you eat and how you feel. As a professionally trained chef, she combines her knowledge of food therapy and culinary skills to help you form healthy and delicious eating habits that enhance your body's innate healing power.

Class Curriculum
Welcome - Program Overview
Available in days
days after you enroll
Mindset Training: 7 Steps to Commitment & Healing Review
Available in days
days after you enroll
Bonus Course Materials & Resources
Available in days
days after you enroll
Frequently Asked Questions
Will I lose weight?
It is likely, as you improve the way you eat and feel better you will lose weight. Most people notice their tummies getting flatter as bloating is significantly reduced and eliminated. However, this is not a weight loss plan but is a very good start.
How long do I have access to the course?
How does lifetime access sound? After enrolling, you have unlimited access to this course for as long as you like - across any and all devices you own.
When does the course start and finish?
This is a self-paced course. You decided when to begin your 30 Day Action Plan. Once you have completed the enrollment process you get instant access to the course and can begin when you are ready. You will get continuous support through our private FB community and have the opportunity to call into a group Q&A session weekly at any point in your healing journey.
How much do the supplements cost?
Exclusive to the program is a special 25% off discount if you get the full supplement package. Supplements may be purchased individually and range in price from 25 - 150 dollars. This gives you the flexibility to use the supplements you choose to. For example, you may want to use the digestive enzyme instead of apple cider vinegar. There is also a 100% food protocol that can be effectively used for healing if you are not interested in supplementation.
What if I am a picky eater?
This program is extremely flexible. Carrie is a trained chef so included with this course are over 20 simple and delicious recipes. If you need help customizing any meals or would like more ideas, you will be able to get help in our private Facebook group.
What if I don't have the time?
This protocol takes no extra time if you already cook most meals. We also have an option to use special meal replacement shakes for easy, filling meals on the go.
What if I am unhappy with the course?
We would never want you to be unhappy! If you go through the program and are dissatisfied, we will issue you a full refund.
How quickly will I start feeling better?
Most people going through this protocol start seeing differences within 2 weeks. After 4 weeks, for most, there will be a significant reduction, in symptoms like bloating, gas, indigestion, constipation, diarrhea, fatigue, and many more.
Do you have to use supplements in the program or can you just use food?
Yes, you can just use food. There is a Booster Food Protocol that provides a detailed guide for a 100% food-based plan. Supplements are optional and are not included in the cost of the program. Many find that the supplement support speeds the healing process.
Are you suggesting that your leaky gut can heal within 30 days? Or what time frame do you put on proper healing?
After 30 days, most people will see significant symptom relief. Full healing can take anywhere from 1 to 4 months or longer depending on your health status.
What supplement brand do you recommend?
Carrie recommends Designs for Health and with the course, you get exclusive access to these professional grade supplements, not just those recommended in the program.
Are your recipes simple or do they involve expensive ingredients?
The recipes contain budget and family-friendly ingredients. They are easy to customize as well. Carrie's 3 year old son and foodie husband have given their stamp of approval on all of the recipes.
What is the hardest part about the protocol?
The most difficult, for many, is committing to do a full 30 days. Remember, you are not doing this alone. You are supported through live weekly calls and a private Facebook community to keep you motivated. And weekly email reminders help to keep you on track as you complete each section of the course.
How do you know when your Leaky Gut is healed?
The typical period of time to heal leaky gut is 1 to 4 months, depending on severity. Carrie explains how to know when you can stop following the protocol as directly and teaches how to reintroduce foods that were eliminated so you can properly evaluate them as a trigger for your symptoms or as a safe food.
Is bone broth used in this protocol?
Yes! Many of the recipes include bone broth and we also recommend using it as a snack or replacement for a hot cup of coffee in the mornings or a sleep aide in the evenings. You will also have opportunities to earn bone broth gifts as well as receive exclusive members-only discounts.
What if I am not able to commit?
With this course, we provide a community to help you stay on track. If you do have unforeseen circumstances that cause you to stop the protocol, you can always restart as you will have lifetime access to all of the materials, call recordings, and new live calls, as well as the Facebook Group.
Is there help on how to stop the protocol?
Yes, Carrie explains how to know when you can stop following the protocol as directly and teaches how to reintroduce foods that were eliminated so you can properly evaluate them as a trigger for your symptoms or as a safe food. And you will be able to call in during Carrie's group office hours to get extra personalized help.